The Deal
$25 for high tea for two people (total value up to $53)
18 food items
Two cups of tea or coffee (one per person)
$49 for high tea for four people (total value up to $106)
$95 for high tea for eight people (total value up to $212)
Highlights
Put on your elbow gloves and tiaras for high tea
Menu includes tarts, mini sausage rolls and sweet scones
Sip on a hot cup of coffee or tea
Menu Includes
Finger sandwiches (may contain pork)
Savoury tarts
Zarbo mini sausage rolls (contains pork)
Sweet scones served with Zarbo jam and cream
Cupcakes
Sweet tarts
Please note that menu inclusions may be subject to seasonal change.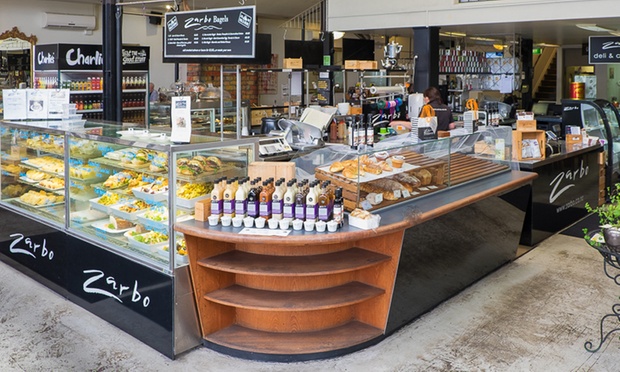 Zarbo
Established more than 20 years ago, Zarbo has spent its existence offering Aucklanders a centrally located source of cuisine and coffee. Owing to customers' response to their range of contemporary fare, this deli-restaurant combo established their website, allowing people from all over New Zealand the opportunity to order and try and their jams, marinades, pickles, condiments and relishes. A range of gift hampers are also available.
Groupon Customer Reviews
90%
of Groupon customers
recommend this business
(based on 530+ reviews)
"A gorgeous high tea experience. Such a variety and selection of savouries, sandwiches, scones and sweets. A very nice atmosphere in the heart of New Market. I can definitely recommend this to anybody."


"Had a lovely afternoon tea with my niece. Felt special."
"The high tea was delicious and the staff were excellent. Highly recommend."

Details verified 25/07/2016
Learn more about Groupon Merchant Review Policy
Customer Reviews
The service was quick and friendly
Very friendly staff who went the extra mile for our group on Mothers Day. High tea was yummy and the tea (T2) was great
I went there recently for brunch with my husband. I bought a deal from Groupon for it and it made the experience worth it. Nice and cosy place to dine in.The food was very good, staff is also nice and helpful. Will visit again and recommend to friends.
1